Are You Embarrased By Pet Odors in Your Area Rugs?
Ask about our Guaranteed Pet Odor Removal Service
Absolute Best Cleaning
AREA RUG CLEANING & REPAIR
Serving New Haven, Middlesex and Southern New London Counties for over 26 years!
Rug Cleaning and Restoration Specialists
Do you own valuable, hand-made rugs? Some of these rugs can be cleaned in your home, but a wool rug can take up to 48 hours to dry, and we can do a much more thorough cleaning if we clean it in our plant. For valuable hand-made rugs, we recommend an in plant cleaning. We will pick up, clean, dry, and deliver your rug. We are able to do a much more thorough; deep cleaning if we clean and dry your rug in our own climate controlled drying room.
Rug Renewal is a division of Absolute Best Cleaning. Owner Chris Weiler has been cleaning rugs for customers along the Shoreline in New Haven and Middlesex counties for 20 years.
Chris has been trained and certified by the IICRC (Institute of Inspection, Cleaning and Restoration Certification) to clean oriental and other fine rugs, and has completed a number of ongoing education classes in the field as well.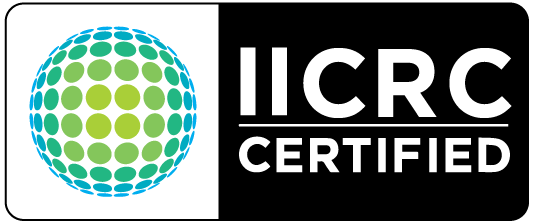 Pet Urine and Odor Control
Moth Protection and Remediation
In-home Pick Up and Delivery
Are You Embarrassed By Pet Odors?
Accidents can happen. Even the most well trained pet can have an accident in the home due to any number of different causes.
Don't be embarrassed by pet stains and odors in your area rugs. If you own area rugs and pets, call today and learn how we can remove the odors and restore the beauty and freshness of your fine area rugs. 
We offer pickup and delivery as part of our service, or you can save a few dollars by dropping the rug off yourself.
Please call and make an appointment for rug drop off or pick up, as we are sometimes out delivering rugs and are not always in the shop.

When your rug arrives, we begin the the process that can only be accomplished with in-plant cleaning: Inspection, Dusting, Stain Removal, Cleaning, Fringe Cleaning and Drying. After our final inspection we return your rug to you and are happy to lay it out back in place in your home.
Pre-Inspection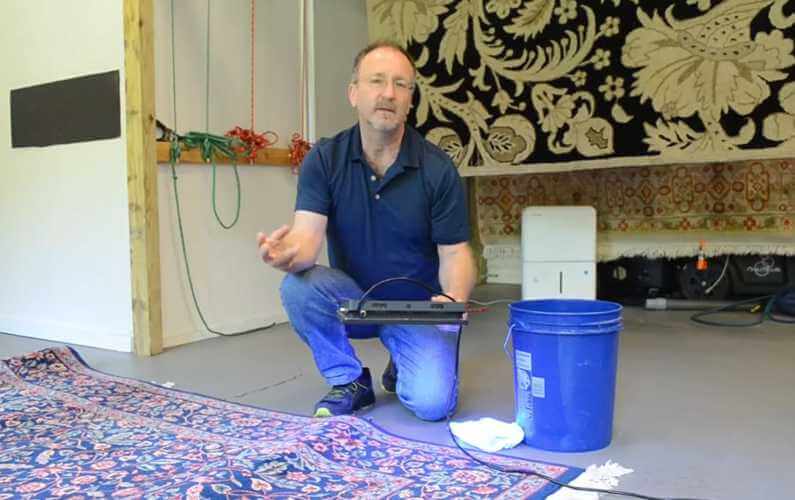 Our process begins with a detailed inspection of the rug. We pay particular attention to bleeding (color fastness), dry rot, and pet damage.
We use a special black light to illuminate organic stains that will require special attention. We will notifiy you of any concerns that may affect our ability to properly and safely wash your rug.
Dusting (Dry Soil Removal)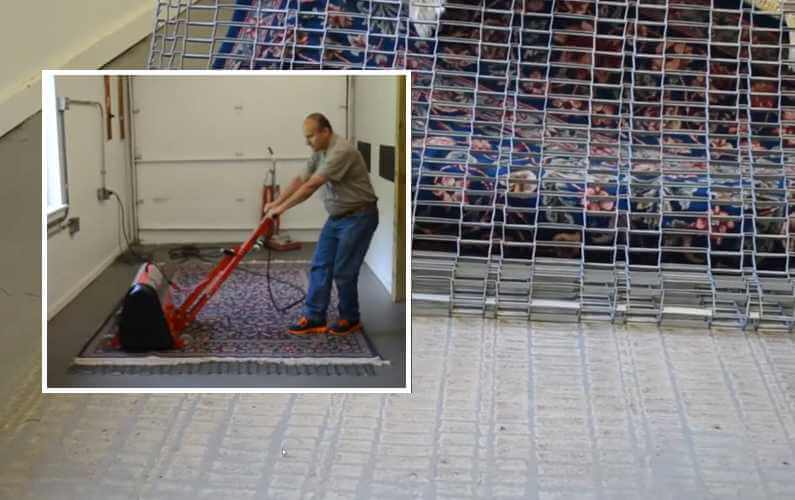 Proper "Dusting" of your rug. We lay your rug, upside down, on a metal grate. Then we go over the back of the rug with a rug dusting machine that agitates and vibrates the back of the rug to shake out dry soil, dust, dust mites, pollen, etc. These are the embedded dry soils that cannot be removed with even the best vacuum cleaners. We then vacuum both sides of the rug with our commercial vacuum cleaners.
Another method that can be used to remove dry dust and soil from your rugs is 'Air Dusting.'
Watch a short video below, in which Chris Weiler, demonstrates this effective method of dusting your rugs.
Shampoo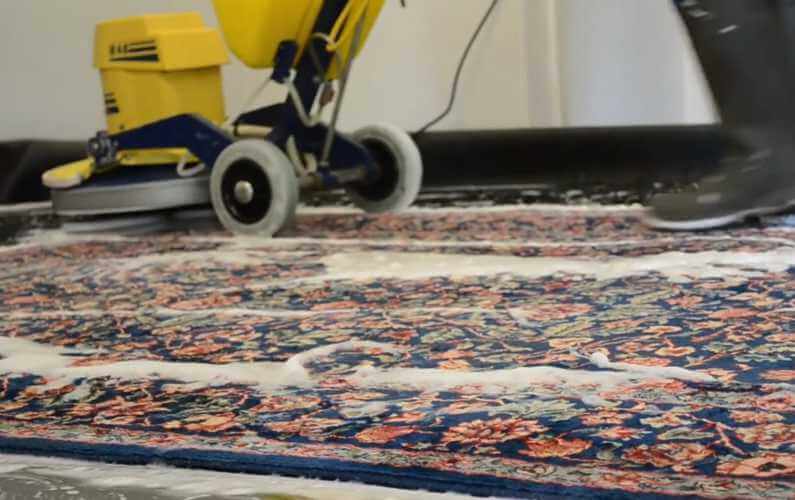 We treat the fibers with a wool friendly rug cleaning solution and then gently shampoo the rug with a carpet shampooing machine with soft rotating brushes.
Rinse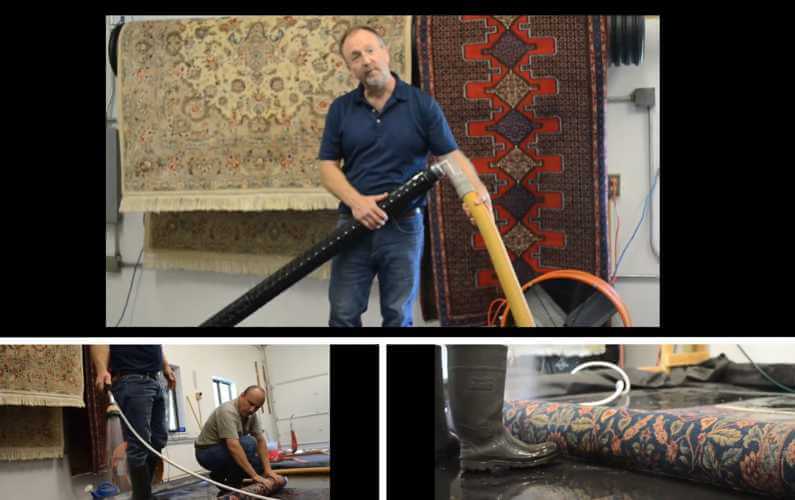 We then rinse the rug and use a number of different extraction tools to extract the soiled solution. At this stage, we may apply fiber and UV protector, moth protector, or deodorizers, depending on the customer's needs.
Grooming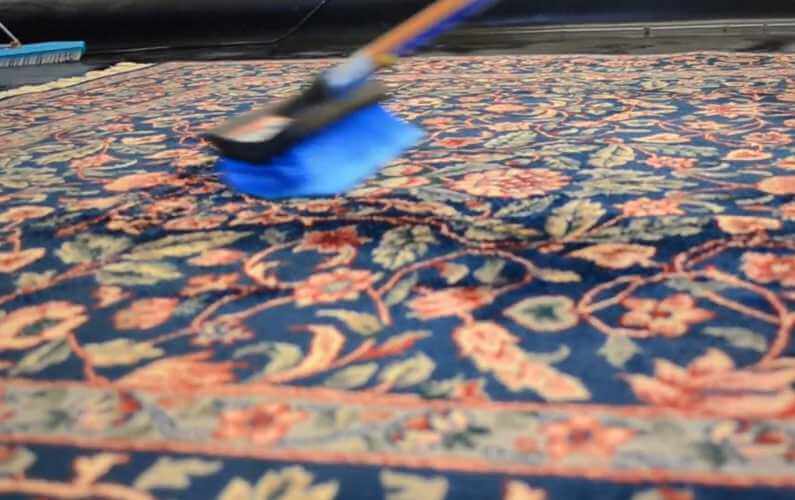 We groom the rug with a rug brush to ensure that all of the pile is aligned properly
Drying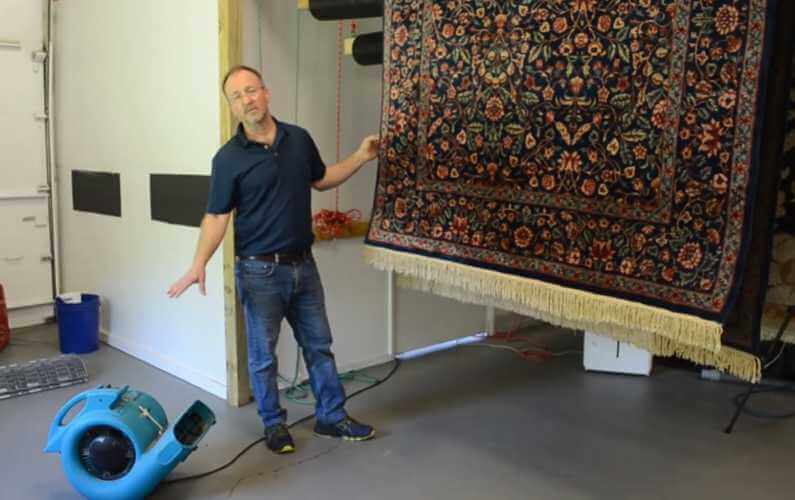 We hang the rug up to dry. We turn on our heavy-duty dehumidifiers and fans to speed up dry time.
Fringe Care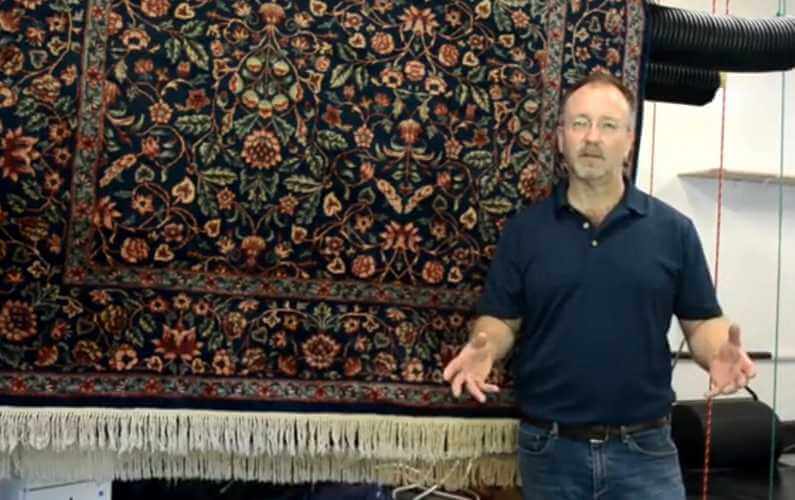 We use specialty fringe cleaning solution to clean the fringes of the rug. We may also apply a fringe whitening solution that actually adds pigment to particularly dingey fringes and brightens them back up.
Enjoy Your Rug!

Once the rug is dry, we roll it up and deliver it to you. We are happy to roll the rug out for you and put it back in place.
Beware of "Bulk Cleaners"
As you are shopping around for a 'true rug washer' to care for your fine area rugs, be sure to ask if they clean their own rugs.
Did you know?
In the past, many high-end rug retailers also cleaned rugs for their customers.  However most of them now outsource the cleaning to bulk rug cleaners who pick up and drop off rugs at the store each week.
These bulk cleaners often utilize automated equipment to quickly process many rugs in a short period of time. While this hands-off approach can work for rugs that are only lightly soiled or don't need a lot of attention it may not be the right choice for your handmade area rug. 
At Rug Renewal, we clean all of the rugs that we take in right here in our dedicated rug washing facility. Each rug receives special attention and a wash process that is custom tailored to the specific construction of the rug and the soil level involved. We understand that there is no 'one-size-fits-all' method for cleaning rugs. Our team has the training and experience to choose the right method to safely wash and care for your rugs while achieving the best result.